LUXURIOUS
Chauffeur Service
Luxurious Executive Chauffeur Service
Chauffeur Services
When it comes to private Jet airport transportation, Royal Limo is the best choice for executive chauffeur chicago limo service. Whether you're flying in or out of Atlantic Aviation MDW- PWK, Signature Flight Support MDW-ORD, or Gary/Chicago Internation Aviation- Royal Limo will get you there with our impeccable fleet and latest models composed of only luxury and comfort. Our Executive Chicago chauffeur Service will arrive at your pick-up location 15 minutes ahead of your scheduled pick-up time to ensure that you're not late.
Whether you're flying in or out of both major airports—chicago Limo Service Offers Great Airport Limo Services to O'Hare Airport and Chicago Midway Airport—you can rest assured knowing that we have you covered. We offer several luxury Limo options to meet your travel needs. Point to Point Services: You can trust our professional chauffeurs will be there for you and get you to your destination safely, in time & in style. Sit back, relax and let us take care of the driving.
We'll take your business to the next level by providing luxury Chicago Limo Service  that reflects your success. With unparalleled attention to detail and careful precision, your chauffeur will maintain a professional demeanor and deliver excellent customer service. They have an impeccable talent for understanding the appropriate level of interaction required by our clients. Whether you'd prefer silence during your journey or an informative local guide, they are happy to oblige.
A stunning entry at any special event such as a birthday, anniversary, wedding, or prom is a must and Royal Limo can help make that arrival and night absolutely unforgettable.  Your special event is elevated to a new level by the professionalism of Royal Limo. Expect the stately treatment from our chauffeurs to match the importance of your event. Our immaculate and luxurious cars will be sure to make heads turn.
Experience our Chicago Limo Service  with enhanced security through Royal Limo Services Chicago. Our Protection Services offer armed and unarmed officers, ensuring your safety throughout your journey. We go the extra mile by providing marked mobile patrol vehicles, further reinforcing our commitment to your security. Enjoy the perfect blend of elegance and protection with Royal Limo Services Chicago.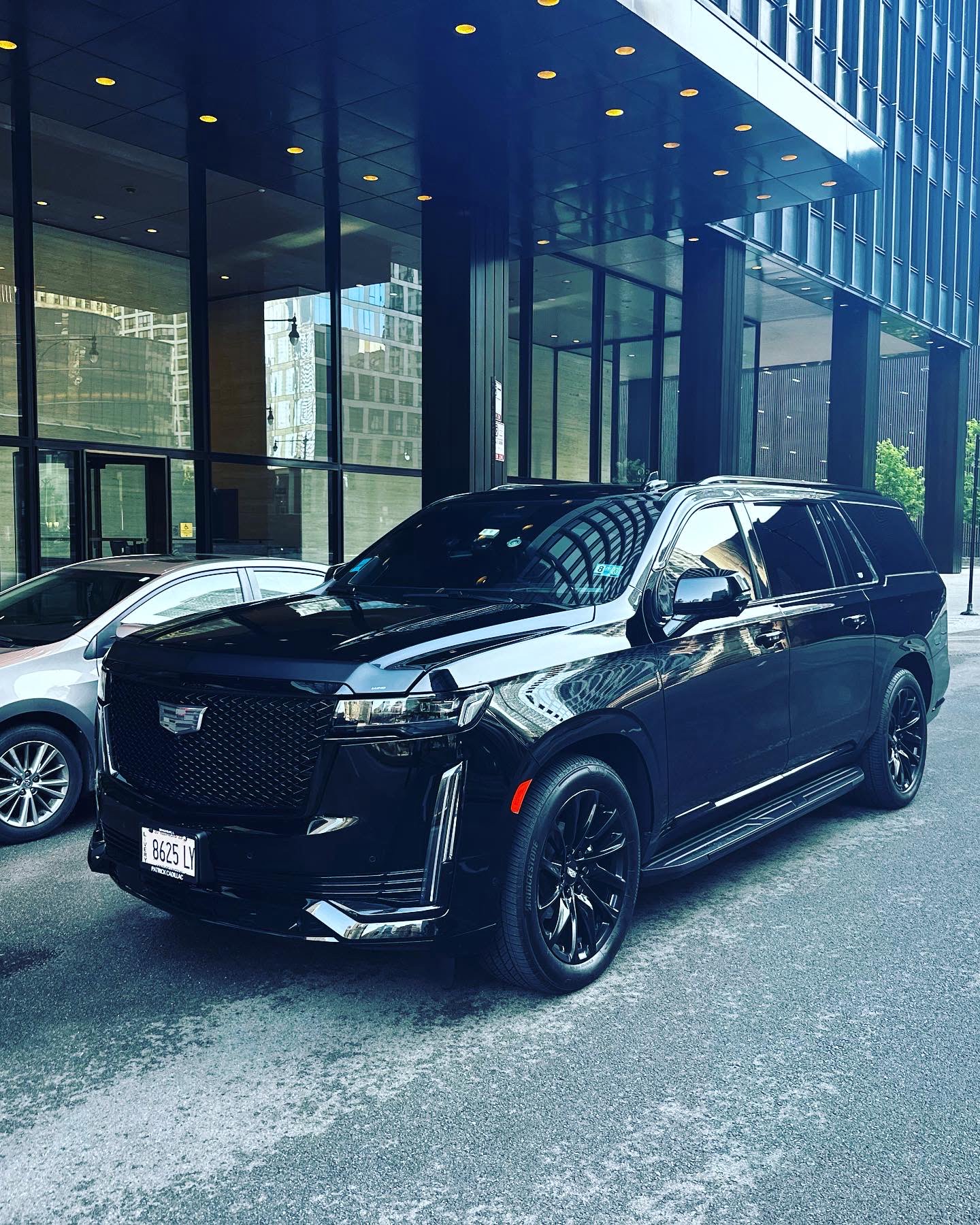 Top Rated Chicago Limo Service
Want the finest black car service in Chicago? One of the leading limo and black car service companies in Chicago that serves the city, Midway-O'Hare airport, and the Chicagoland region is Royal Limo. We use a wide range of aspects to represent our whole menu of chauffeured limo services in Chicago, including Chicago limousine service, Chicago SUV limos, Chicago Executive Limo Service, Stretch Limo Service, Wedding Limousine, Sprinter Van Limo, Private Airport Limousine, Ohare Airport Limo, Airport Transportation Service, Charter Limo Service, Professional Chauffeur Driver, and Corporate Limousine Service.
We provide upscale transportation services in and around Chicago and the Suburbs. This includes the most dependable wedding transportation, executive limo service, airport limo service, corporate limo service, and private airport limo service Chicago has to offer.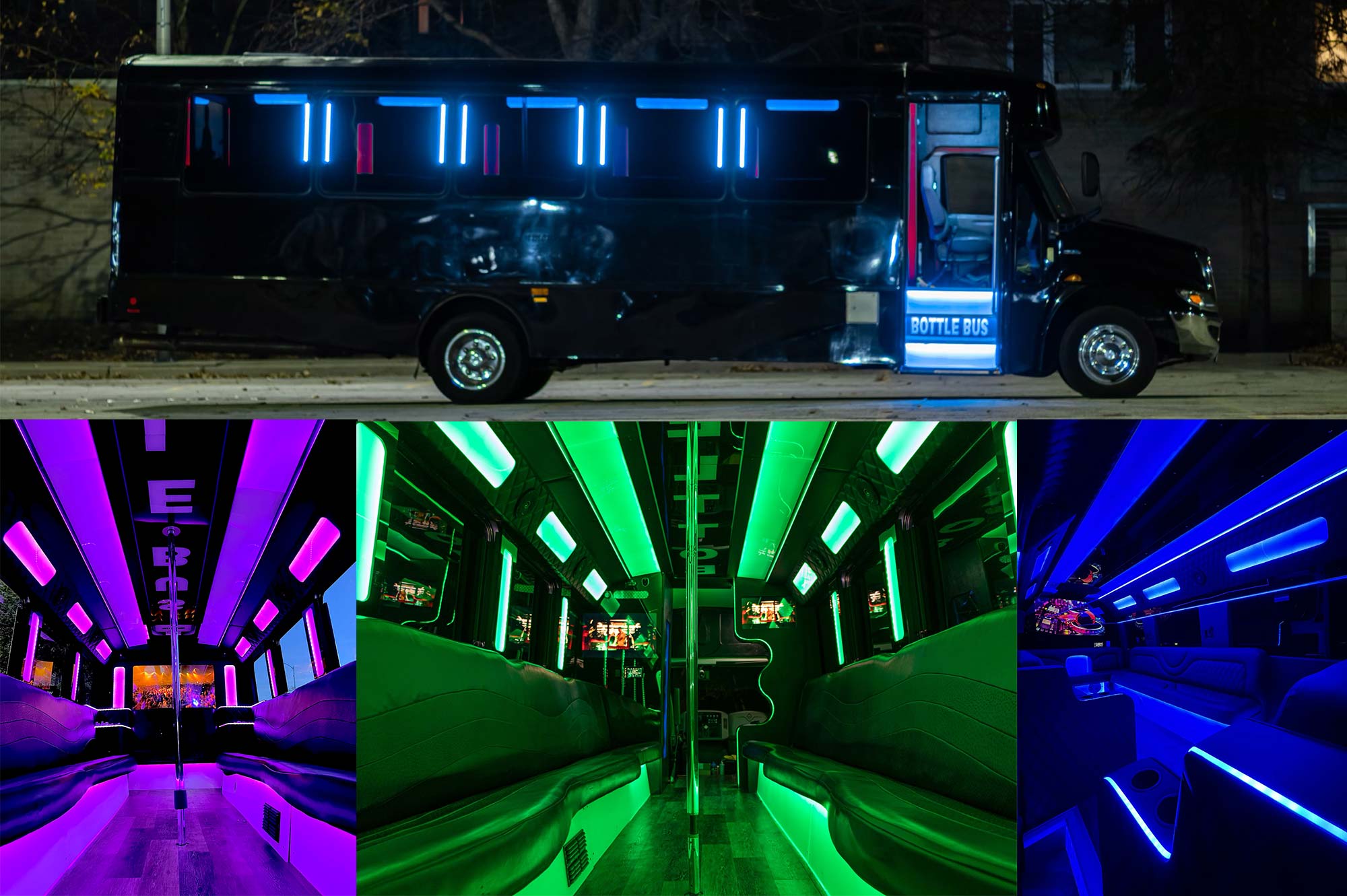 Chicago Party Bus Rental Service
Royal Limo Services Chicago offers an impressive fleet of Sprinter and Party Buses to elevate your group transportation experience. Our Sprinter Buses combine elegance with versatility, providing a luxurious journey for up to 14 passengers. With plush leather seating and modern amenities, these buses ensure comfort and style for corporate events, airport transfers, and private outings. Our Party Buses, accommodating 20 to 30 passengers, transform into vibrant mobile party venues. Equipped with state-of-the-art sound systems, disco lights, and even dance floors, they guarantee an unforgettable celebration on wheels. With professional chauffeurs and impeccable service, Royal Limo Services Chicago ensures a seamless and enjoyable ride. Trust us to exceed your expectations with our exceptional Sprinter and Party Buses, delivering both comfort and excitement for your group's travel needs.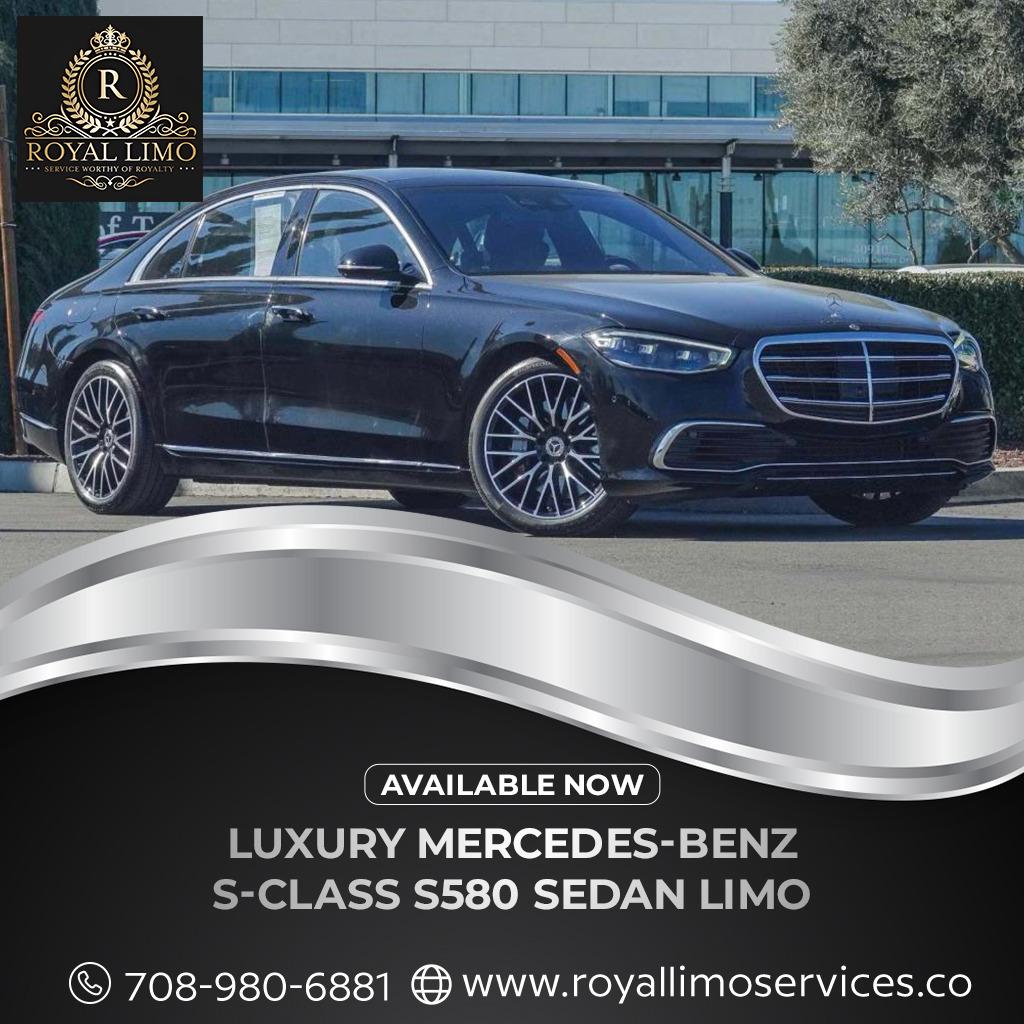 Luxury Mercedes-Benz S-class S580 Sedan Limo
Book Now: Luxury Mercedes-Benz S-Class S580
Introducing the best Luxury Experience of Mercedes-Benz S-Class S580 Sedan Limousine.
You can reserve it for point to point, airport, event, corporate, and for many more transportation needs in Chicago.
Hire your luxury limousine in Chicago today at competitive pricing with guaranteed on time arrival and make your journey easier, safe, time savvy and convenient.
Elevate your journey to a whole new level with our fleet of exquisite Mercedes-Benz vehicles. We're not just offering transportation; we're providing an amazing experience of Mercedes-Benz S-Class S580 limousine rental at your fingertips.
Whether it's a special occasion, a business meeting, or a leisurely getaway, Luxury Mercedes Benz is your premium choice. Don't miss out
Book Now and Experience Luxury Like Never Before!
Welcome to Royal limo luxurious Midway limo service in Chicago. If you're looking for hassle-free travel and the best way to experience travel journey, our limo rental to Midway is the perfect solution. With our quality service and experienced chauffeurs, we guarantee a comfortable and enjoy-full journey to your destination.
At the Royal limo rental to Midway, we understand the importance of punctuality and professionalism when it comes to airport transfers. Our dedicated team works professionally to provide our clients with an amazing experience. Whether you book limo to the airport or book limo for Chicago, our Midway limo service is tailored to meet your needs.
Booking a limo to Midway: Our service impresses you
Booking a limo to Midway has never been easier. With our user-friendly online platform, you can reserve your limo ride to Midway Airport in just a few simple steps.
Enter your pickup location
Date and time
Choose from our extensive fleet of luxury vehicles.
From the best vehicle collection of black luxurious limo to luxurious SUVs, we have a wide range of options for individuals, families, and larger groups.
Choose our limo ride to Midway airport: Feels different
When you choose our limousine services, you will experience  top level of comfort and convenience. Our vehicles will provide you with a luxurious feel and smooth ride. Relax and enjoy the ride with our professional chauffeurs and we are always here to help in choosing the best.
As you at Midway Airport, our chauffeur will be there to greet you and assist with your luggage. Our commitment to best customer service means we full fill your expectation you expect from us. We guarantee your safety and excited to exceed your expectations at every turn.
Royal limousine the Chicago Midway airport Limos best transportation services: Always on time
If you're flying into Midway Airport, our limo service is the ideal choice for your ground transportation needs. With our reliable and prompt service, you can trust us to be there on time, ready to pick you away to your desired destination.
We always check flight schedules to allowing us to adjust our Limo services for Midway accordingly.
Reach us
At Royal limo services, we also offer Midway Airport limousine for those looking to make a grand entrance or surprise someone special.
Whether you're visiting Chicago for your personal work, for your business or meeting with someone, our experienced chauffeurs will provide a smooth and luxurious journey from the airport to your hotel, conference or any other location in the city.
Choose our limo service to Midway Airport for an excellent transportation experience. We combine benefits like professional, reliability, and exceptional customer service to make your journey truly memorable.
Book Today
Book your limo ride today and discover why we are the preferred choice for travelers seeking comfort and style in Chicago.
FOR LATEST UPDATES AND OFFERS
SUBSCRIBE TO OUR NEWSLETTER
5 Stars Chauffeur Services
TALES FROM THE ROYAL LIMO SERVICE
Recent Blog Posts
admin
if you looking for Chicago Ohare Airport Executive Limousine Service, Royal Limo Services Company got
admin
Do you need transportation from O'Hare Airport? Visit Royal Limo right now! People go to
admin
Although Chicago offers a wide range of transportation alternatives, visitors like renting vehicles with drivers.