Top Luxury Rolls Royce Rental Service in Chicago
Do you want to elevate your Rolls Royce Rental experience in Chicago to new heights? If so, you have landed at the right destination: Rolls Royce Rental—Chicago's most reputed transportation company known for its top-notch and convenient services. Whether you are planning to celebrate your special occasions like birthdays, wedding anniversaries, etc., we are always there for you with our most premium Rolls Royce Rental Services. Our major initiative is to promote exceptional transportation without any compromise.
Rolls Royce Rental Chicago is the most prestigious brand in the Chicago market, with numerous years of expertise. We have a large network of chauffeurs nationwide, so you need not worry about ride status. Book your ride and relax. Our team will reply shortly and confirm your booking for a hassle-free travel experience.  
Whether you want to make a bold statement in the busy streets of Chicago or go for long travel journeys, we have our stylish and luxurious Rolls Royce ready for you. 
Collaborating with Rolls Royce Rental Chicago is quite beneficial for you as we provide a clear and transparent system of ride booking and other facilities. You will get a detailed consultation about our services. We also accept digital payments such as Apple Pay, Google Pay, and PayPal. All our fleets are fully insured. 
What are you thinking about? 
Ride Now!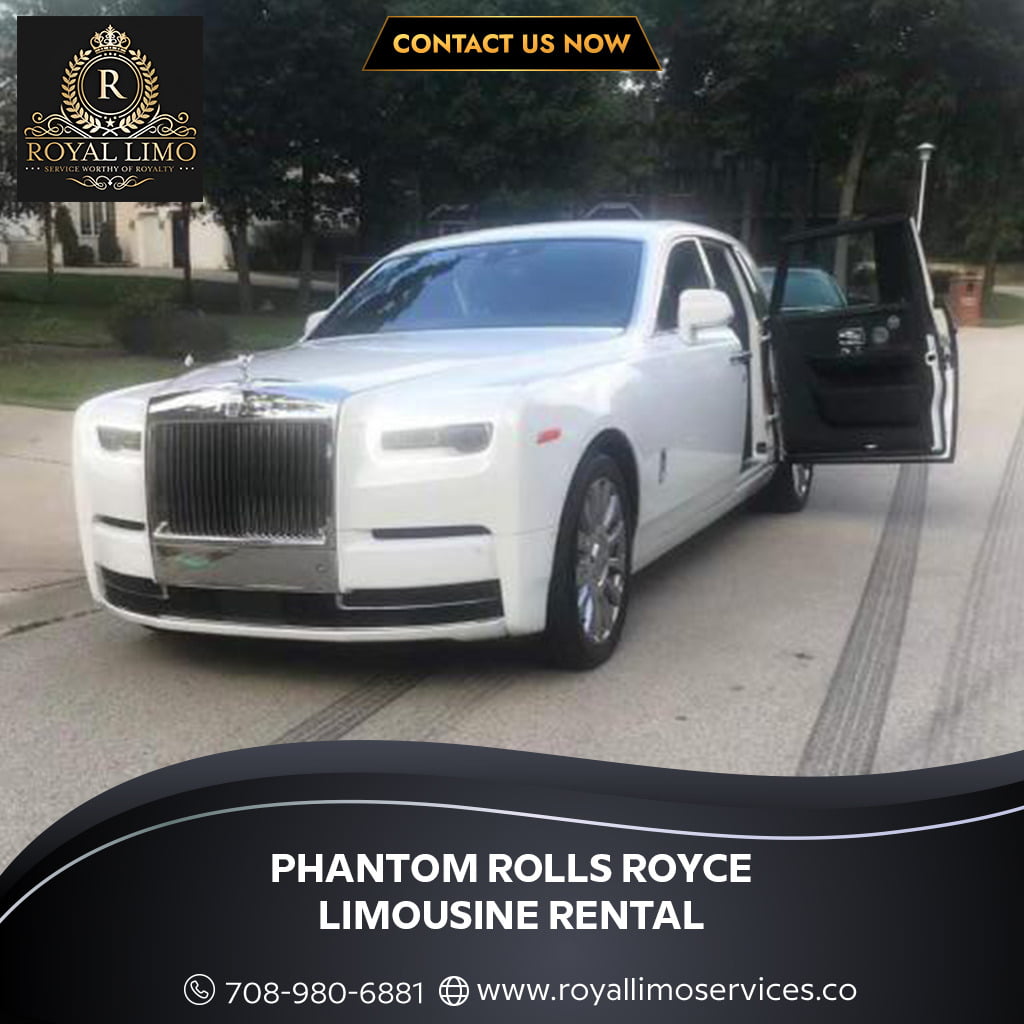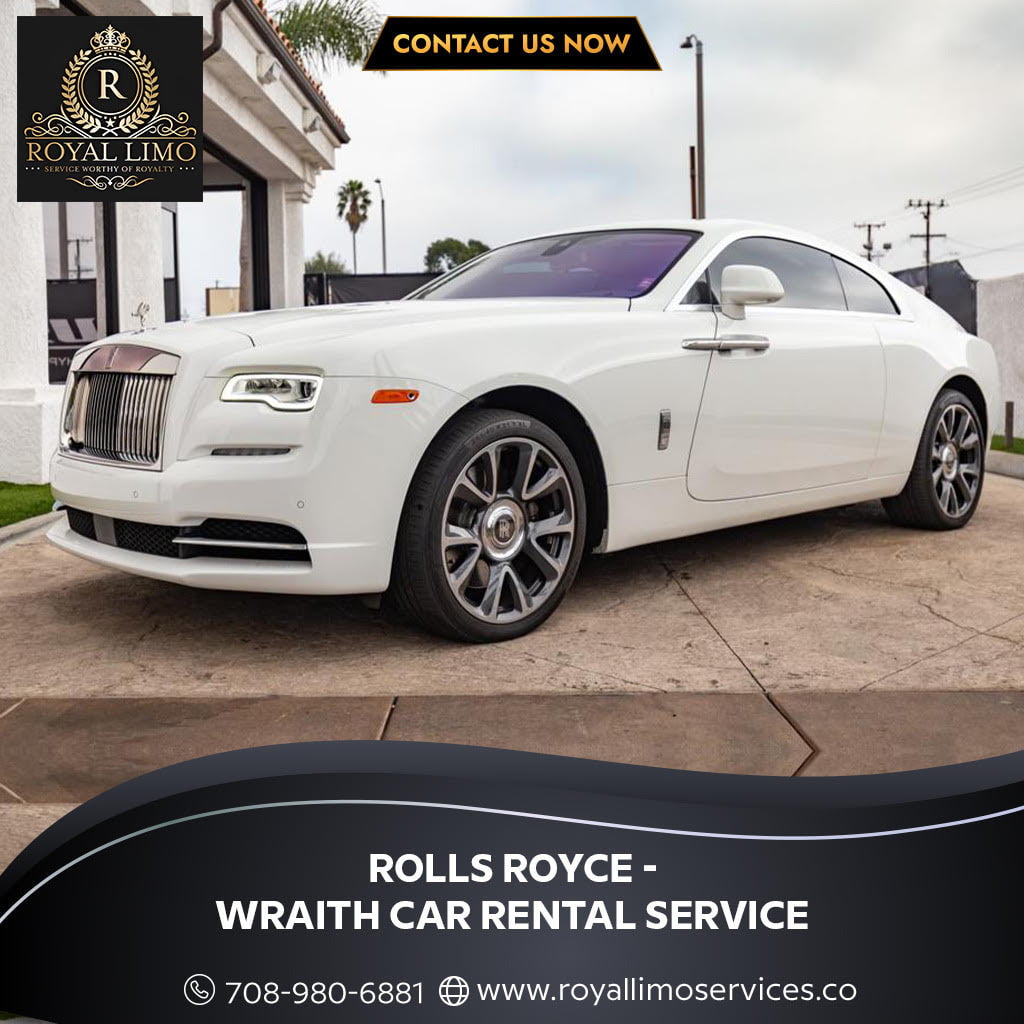 Our Top-class Fleet Directory
Rolls Royce Limo Rental in Chicago  and the suburbs of stylish and exotic phantoms and limos ready to for all happy events with professional chauffeur you can enjoy the ride while we drive. All our our Rolls Royce fleets are well-maintained and equipped with general amenities such as an Automated climate control panel, LED touch panel, and WIFI. A list of our fleets are: 
Experience top-notch comfort and luxury feel with our prestigious Rolls Royce Phantom. Our ride offers you a serene feel that gives tough competition to the finest hotels. 
With its sporty look and powered with cutting-edge technology, the Wraith from us is perfect for those who are willing to have an ultimate thrilling driving experience.
Experience top-notch comfort and luxury feel with our prestigious Rolls Royce Phantom. Our ride offers you a serene feel that gives tough competition to the finest hotels. 
With its sporty look and powered with cutting-edge technology, the Wraith from us is perfect for those who are willing to have an ultimate thrilling driving experience.
 Rolls Royce Car  Rental Chicago 
Rolls Royce Rental Services in Chicago provided by Royal Limo is a top-notch transportation in the heart of the United States, Illinois. It aims to offer a remarkable and unforgettable experience to all individuals. We have been in the business for over a decade and always focus on delivering exceptional Rolls Royce stretch limo rental services and allowing our liable customers to make a grand entry in Style. 
Technology has made our lives as easy and effective as the transportation industry. With time, we have equipped our assets with the latest innovations and technology. You are just a few clicks away from getting your desired Rolls Royce. With our exotic Rolls Royce, you can experience class and elegance. We are not like other companies. We deliver money services and are done. We are always trying our level-best efforts to provide a home-life comfort and feel to all our legitimate customers and establish long-term customer relationships for the future. 
We have high-end supercar hire like Rolls Royce and Bentley and luxury SUVs like Mercedes Benz and Range Rover. And with our budget-friendly pricing, you can be confident that you will only get the greatest deals. You'll have no trouble choosing the luxury car of your dreams at Rolls Royce Rental Chicago and having a fantastic weekend in Illinois.
Thus, luxury cars have more powerful engines, comfortable interiors, superior handling, and many marvelous features that guarantee a comfortable ride. With us, you can rent a luxury car for a day, a week, or even a month. Whether planning an unforgettable weekend in Chicago, a family vacation, or a business meeting, renting a supercar is the perfect solution.
Main points of our business
Customer satisfaction

On-time pickup

Years of experience

Professional Chauffeurs

24×7 availability 

Quick booking/ cancellation
Why should you visit Rolls Royce Rental Chicago? 
When you visit Rolls Royce Rental Chicago to get Rolls Royce in Chicago for the first time, you move towards complexion and luxury comfort. You can also get seamless benefits: 
By getting our fleet services, you can arrive in Style as our vehicles comprise the most iconic and prestigious Rolls Royce Stretch Limousine models. Each vehicle is well-maintained, which defines luxury and sophistication.
Our Rolls Royce automobiles will transform your special occasions into everlasting memories, whether a wedding, anniversary, prom or a night on the town. 
We give reasonable rental prices, allowing you to take advantage of the highest luxury without breaking the bank.
We at Rolls Royce Rental offer the most suitable and convenient booking methodologies. We allow our customers to book a Rolls Royce online and offline. Our user-friendly web portal is for your convenience. 
Have you ever desired to be a chauffeur in a cool car? Look no further than Rolls Royce Rental Chicago, as we offer complete services to meet your requirements. With our excellent rental services, you can travel like a boss. All you get is only under one roof. 
Have you ever wanted to go behind the wheel of a Rolls Royce? That's the kind of dream that folks throughout the country have. Rent one so you can cross one of your bucket list items off your list.
Incredible Benefits of Taking Chicago's #1 Rolls Royce Rental Services 
Finally, when you are about to take cost-effective Rolls Royce rental services, you can achieve seamless benefits. A few of them are: 
You have the freedom to select the car that best meets your needs. Rental services provide many possibilities, whether you need a compact car for a short trip, a roomy SUV for a family holiday, or a premium vehicle for a special occasion.
You don't have to worry about maintenance and repair costs when you rent a vehicle. The rental company handles all maintenance, including regular servicing and addressing any mechanical issues.
You can rent a vehicle for a short period, such as a day or a week, which is useful for vacations, business trips, or special occasions without a long-term lease commitment.
Corporate & business benefits
Renting luxury cars for businesses can be tax-deductible and give cost certainty without the capital expenditure of purchasing a fleet.
Avoid Parking and Storage Costs
You don't need to worry about parking or storing the vehicle when you're not using it. Return it to the rental company.
Our Pricing
When deciding whether to rent a car like a Rolls Royce Phantom, the first question that always comes to mind is the rental rates. Rolls Royce Rental Chicago has never compromised with its quality/service and always tries to give the best pricing quote to its customers. Please have a look at our pricing chart. 
Vehicles Rent per hour
Rolls Royce Phantom 8 hrs. = $2,229 and for One day = $2999
Rolland Royce Stretch Limo 8 hrs. = $990 and for One day = $1500
Rolls Royce Ghost 8 hrs. = $1999 
Schedule your favorite Rolls Royce Ride and get the best travel experience. Our proficient chauffeurs enhance your ride experience to an ultimate level. There is a lot to see here. So, take your time, explore, and learn everything you can about us. 
Book your Rolls Royce Today! 
Do you wish to be transported to the height of luxury? Take your chance to ride the best Rolls Royce in Chicago. Contact us right away to reserve your vehicle & make sure that your upcoming special moments are mesmerizing and unforgettable.
You may not be able to purchase a Rolls Royce outright. But that's no excuse to give up on a lifelong ambition. When you find a rental business that provides luxury car service, you will have the experience of a lifetime. Some individuals have their moment for a lifetime when they avail of the best-rated Rolls Royce Phantom limo rental services in Chicago. 
FOR LATEST UPDATES AND OFFERS
SUBSCRIBE TO OUR NEWSLETTER
GOOGLE REVIEWS FROM GUESTS