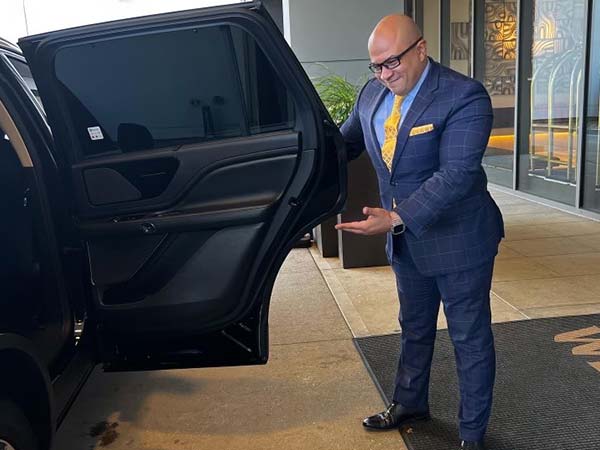 Royal Chauffeur services in Chicago will transport you to a world of luxury, so what are you waiting for? Book your luxury ride today with us.
Welcome to the world of Royal Limousine Services, the best limo Chauffeur services providing company in Chicago with sophisticated and luxury rides. If you've ever fantasized about being treated like nobility, picture yourself gliding through the city in a magnificent vehicle that turns heads at every turn. Your wish is going to come true with Chicago Limo Service of Royal Limousines, which is renowned for its unparalleled sophistication and exceptional experiences.
Magnificence: A Fleet Like None Other
Royal Limousine Services is the symbol of luxury. Our limousine fleet is exceptional, as it combines modern engineering with enduring elegance in a modern manner. Every vehicle is meticulously maintained to ensure a flawless and comfortable journey, creating an atmosphere that makes you feel like a true king or queen.
Our fleet is designed to accommodate any event, whether a special occasion, a business meeting, or a romantic evening. You can choose from various high-quality limousines, such as the iconic stretch limo that exudes Hollywood glamour, the elegant and sophisticated sedan for executive travel, or even a spacious SUV for group excursions.
Skilled Chauffeurs: Guaranteeing a Royal Experience
Royal Limousine Services is more than just a chauffeur service-providing company in Chicago. Our chauffeurs are hired based on their expertise, professionalism, and knowledge of the city streets. They consistently ensure that your trip is more than just a transport, but a memorable experience with Royal.
You can expect exceptional service that adheres to the highest standards. Our personnel will greet you with a friendly greeting and help you open doors. In addition, they will provide personalized recommendations and share insider information about the city's best-kept secrets. Your chauffeur's mission is to make you feel like a true VIP, adding an extra dimension of enchantment to your royal experience.
Our Symphony of Amenities is the epitome of luxury
Prepare to encounter many luxurious amenities that completely transform your travel experience. Every detail has been meticulously curated, from the opulent leather seating and plush interiors to the ambient lighting that sets the atmosphere for any occasion.
With our cutting-edge technology, including high-speed Wi-Fi and state-of-the-art entertainment systems, you can experience seamless connectivity and limitless entertainment. Toast with your preferred effervescent beverage served in sophisticated crystal glasses. Enjoy a variety of complimentary refreshments to maintain your vitality throughout your majestic experience.
Beyond the Ride: Customized Packages for Your Memorable Occasions
Royal Car Service rental in Chicago recognizes every moment's significance and believes every occasion becomes a beautiful memory.
Whether you're planning a fairytale wedding, a milestone celebration, a corporate event, or a romantic anniversary, we offer customized packages that deliver the ultimate experience. Our services include a red carpet welcome, exquisite floral arrangements, and customized limousine interiors. We assure you an unforgettable experience that will make you feel like royalty through our meticulous attention to detail.
Participate in the Royal Experience
Royal Limousine Services seamlessly integrates elegance and luxury throughout your voyage. As soon as you enter our opulent limousines, you will understand why we are renowned for delivering the highest royal treatment.
Reserve your extraordinary Chauffeur for transport with Royal Limousine Services immediately to experience their luxury. Let us elevate your experience to a regal level, whether you have a special occasion to commemorate or wish to savor life's finest moments.
Finally, an exceptional regal experience awaits.
Royal Car Service's prestigious Royal Limousine Services provide the utmost luxury travel experience. We aim to provide a royal experience with our opulent vehicles and exemplary services. We aim to make you feel like a king or queen. Our customizable arrangements will transport you into a world of elegance and provide an unforgettable experience. Every event will become a magical memory you will cherish. Transform your journey into a magical adventure and immerse yourself in the regal limo ride experience in Windy City.
Book Chauffeur Services in Chicago with Royal Limo service for a safe and comfortable limo ride.
FOR LATEST UPDATES AND OFFERS
SUBSCRIBE TO OUR NEWSLETTER
GOOGLE REVIEWS FROM GUESTS